The Purpose
This is a school of life where you will get to know the Almighty God and His Son Jesus Christ, the savior of the world intimately so that you can live that wholesome life that God wants you to live and consequently live a purposeful life that benefits you, your family, acquittances, neighbors and society at large.
Everything you will learn in this school is based on the revelation of Jesus Christ from the Bible. The Bible has been a foremost book of inspiration for all people of different religion and beliefs. Ultimately, the entire Bible, both old and new testament is actually the story of Jesus Christ, the savior of the world.
The Right Believing School is a school where you will get to rediscover yourself by discovering Jesus in a new fresh way. The eight (8) Sections made up of fifty-eight (58) lessons which is logically arranged for systematic learning is designed to help you know the truth about Christ that truly set free.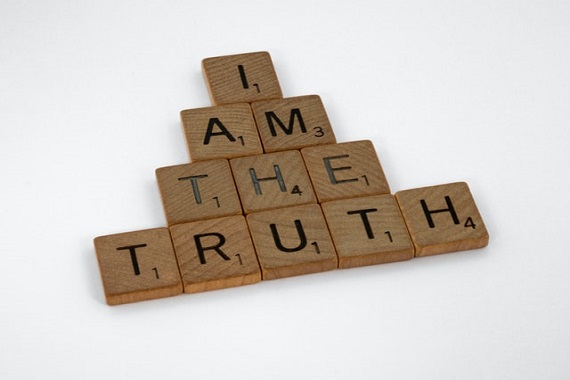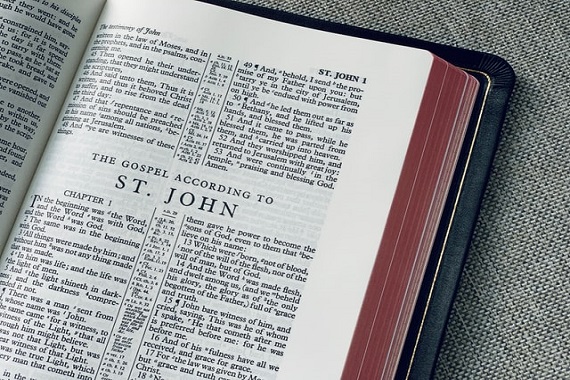 If you want to know God for yourself, if you want to understand God's salvation in its simplest form, if you want to be a true disciple of Jesus Christ, if you want to fulfil your purpose in life, for your family, and in your career and ministry, this is what you have been waiting for. This is where you will correct all your belief and rise up to live the right life of peace health and favor God has planned for you.
Ultimately, Right Believing Produces Right Living. You can only change you life by correcting your belief
---
Overview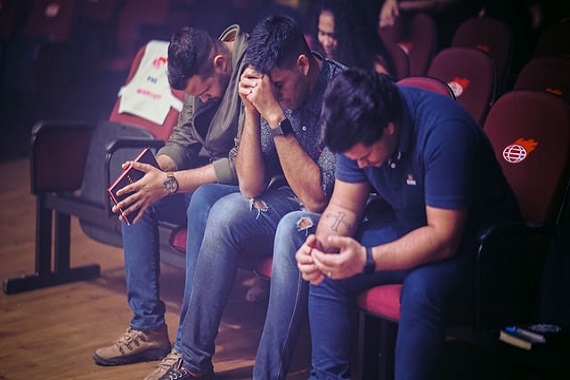 The Right Believing School is divided into three modules or segments; Foundation, Discipleship and Maturity Classes.
The Foundation Module consisting of the first 6 of 58 lessons are the most critical because all other modules are built on the solid foundation to be laid in this module. This first module builds a sound foundation for understanding salvation by grace through faith introduced by the Lord Jesus Christ.
The Discipleship Module has 14 lessons, that is, Lessons 7 to 20. Once you have a solid foundation in module 1, you are ready to get the sound groundings that module 2 will provide. The discipleship module will equip you in the doctrine of Christ and make you know who you believe so you will not be easily swayed by deceptions of the age.
The Maturity Module consists of the last 38 lessons of the of the entire syllabus of this school. This is the module that turn you into a sound minister of the gospel, pastor of your own house and family, and to friends, neighbors and possibly a small congregation if you are inspired by the Holy Spirit to take such responsibility.
---
The Book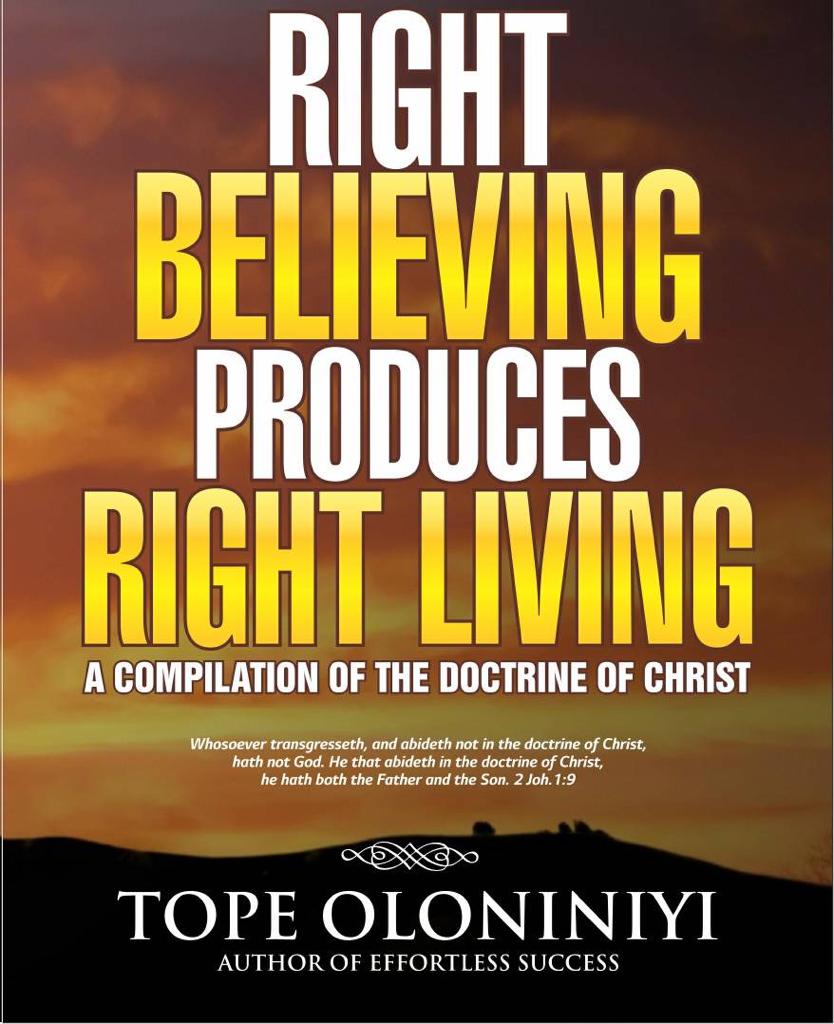 The contents of this on-line Right Believing School were initially published as a book titled, Right Believing Produces Living in 2018. It is a compilation of the doctrines of Christ. In the months following, the videos teachings were also prepared and the contents diffused into aptitude questions and answers in order to encourage and aid in-depth study of the content.
Unscriptural doctrines and practices is the bane of modern day churches and Christianity. Strings of erroneous teachings cleverly woven together in past centuries and decades have paved way for enshrining myriads of unscriptural practices that are now established in mainstream contemporary Christianity.
Right believing produces right living book carefully examines the six foundational mindsets required to understand the doctrines of Christ. Thereafter, the book delved into as many as fifty-two carefully selected doctrines of Christ that will aid you to clearly understand and take correct scriptural stand on doctrines and practices regarding issues and questions like;
Are you saved by grace or by works or both?
Can salvation be lost? Are you supposed to confess sins to be forgiven?
How can we overcome sin and addictions?
What are the secrets of deliverance from devils and curses?
How has the new covenant affected prayers, fasting, tithing offerings in the new testament?
Are there unfinished works of Christ?
Is church supposed to be accountable? If yes to who and how? And many more
One thing is clear, And ye shall know the truth, and the truth shall make you free. (John 8:32). Get ready to be a part of Gods army that will usher in the end-time explosion of Gods power that and move as you rediscover and embrace truth of the doctrines of Christ. Section One of the compilation examines each of the six pillars that make up the foundation of the Christian faith in the light and context of the scriptures. The six pillars are the foundation of the gospel of grace. In explaining each of the six pillars, it bears in mind the fact that the writer of the book of Hebrews, which is presumed to be Apostle Paul is writing to a Hebrew audience who have either transited or are transiting from Judaism religion to the Christian faith. More often than not, and throughout the book of Hebrews, the writer uses expressions that shows that the discuss is between two parties that understand the religion of Judaism perfectly.
2 Cor. 13:5a says "Examine yourselves, whether ye be in the faith; prove your own selves". This compilation will make you to challenge and examine what you believe. The book is a frank straight-to-the-point analysis of doctrines of the Christian faith based on incisive study and application of the Bible and the revelation of the gospel of Jesus Christ. While Section One is tagged foundation of grace, Section Two to Eight consist of fifty-two doctrine of Christ subdivided into three broad categories labelled (1) Receiving grace, (2) Living grace life and (3) Releasing grace. The new covenant is a covenant of grace. Grace need to be established on the right foundation. Then it has to be received, lived and released by allowing it to flow with graceful hearts back to God and across towards fellow men. This is only possible if the foundation is right.
This content contains the information you need to do a foundation check and to fix all that may be wrong with your believes and belief system, if faulty. The contents puts in your hand all you need to receive grace, live grace and release grace to your family, community and generation. Grace is the unmerited favor of God through the Lord Jesus Christ. Grace gives you power to do what you cannot do by yourself, qualifying you for the favor you are not qualified for in yourself. Grace is rightfully described as God's Riches At Christ's Expense. When you believe right, you can live right because your belief controls your thoughts, and your thoughts controls your attitudes, motivation and actions.
This is a no-holds-back content that may point out many religious practices you might have held dearly that are not in sync with the gospel of the Lord Jesus Christ. It is recommended that the contents be studied intensely and slowly because it contains a lifetime of life-transforming gems. Only one or maximum of two nuggets is recommended to be taken on in a week.
---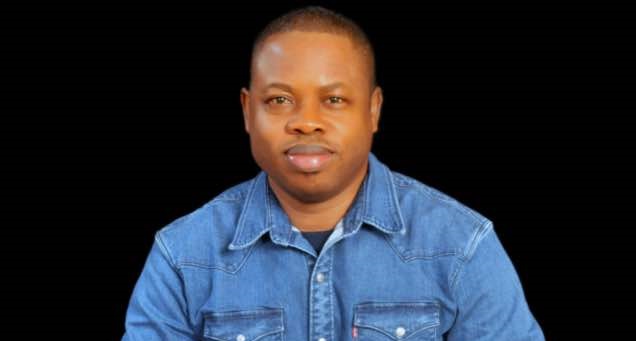 The Author
Tope Oloniniyi committed his life to Jesus Christ as a teenager in his junior school days and grew up with a deep sense of personal relationship with God. Between Campus Christian Fellowships and mainstream Church system, he has been active in Christian and Church leadership for over three decades.
He studied Actuarial Science in Ahmadu Bello University and bagged a Masters in Banking and Finance in University of Lagos in Nigeria. He gracefully combined a fruitful career in Insurance and Banking with active Pastoring in the last two decades. He is the founder and Pastor at Grace Impact Christian Network in Lagos, Nigeria where he lives with his adorable wife and three children.
---